Campaign

FAQ

Comments

Backers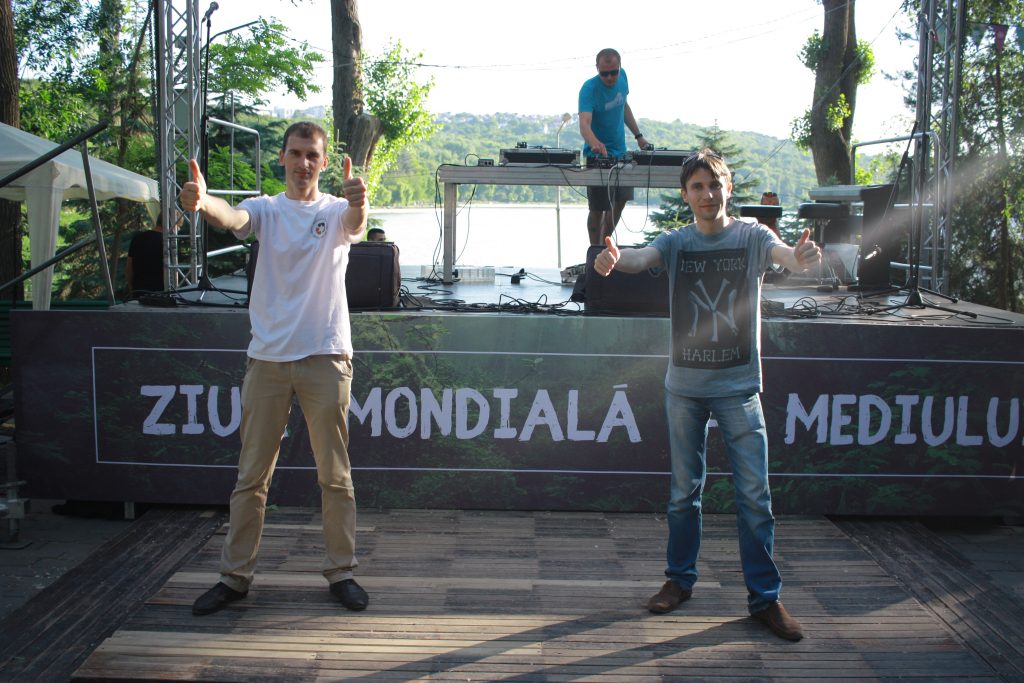 Eco TV Moldova – this is the first ecological TV channel in Moldova about nature, which would promotes ecology, health, economy, business, tourism, medicine and everything that is related to ecology field in Moldova and the whole world.

The biggest responsibility for environment pollution bears the man. Pollution takes place for last 10, 50, 100 years or even more.

Now in the 21st century has increased the risk of pollution and could be observed in each part of the world regardless of our residence, in either Europe, Asia, America, Africa, Australia, Antarctic or Arctic. Chisinau and Moldova have the same problems. This happens every day and everywhere.

In Chisinau there is the big number of ecological problems that primary relate to health and environmental condition.

For this reason, we began the project of TV channel "Eco TV Moldova", for purpose to change this situation from our capital city to the whole Moldova.  The main criteria, which became the basis of this TV format, are the ecology and environment problems, protection of human health and environment, influence of human factor on the environment and its degradation.

TV channel is created for showing the beauty of nature, the connection of nation with nature, dependence of a man from the ecological condition of environment and possibilities to change the situation in better way.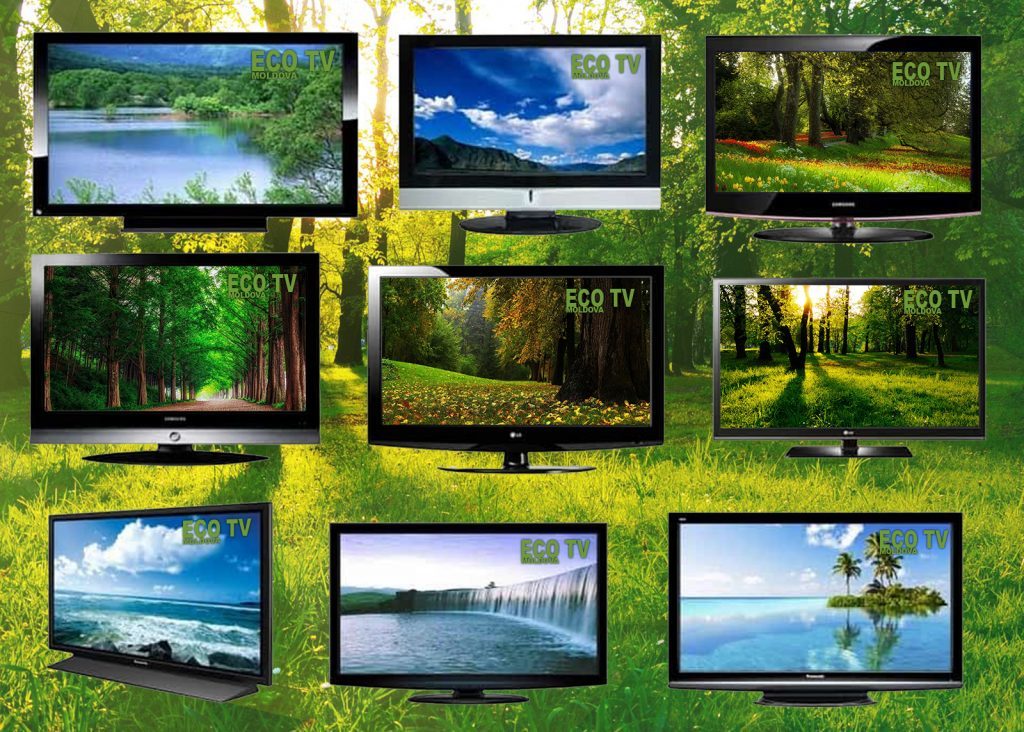 To see more information about the project of the TV channel "Eco TV Moldova", please visit our pages on Facebook and PLAY.MD, Youtube, RuTube:

-https://www.facebook.com/ecotvmoldova/

-https://www.facebook.com/groups/ecotvmoldova/?fref=ts

- https://play.md/ecotvmoldova-channel

-https://www.youtube.com/channel/UCluAgsETTAG0HrHimS_D4-A

- https://rutube.ru/video/person/1275758/
Mission

The mission of this TV channel is to provide information about the ecology that will help the population to live better in Moldova and realize that the most important is the protection of nature, realize that this is the key to our health and well-being of present and future generations.

There is a huge work to do for informing citizens about the structure of nature, to learn what to do, what to eat, how to lead a healthy lifestyle now and in the future.

We want to deliver this idea to every home, to every person and first of all to children, so that they transfer it to the future generations.

We wish to cover the whole of Chisinau and the Republic of Moldova and transfer the information on the topic of environmental education, new technologies, energy efficient systems, solutions in various areas of life for every citizen and for every company in the country, including the exchange of experience between cities and countries that already successfully develop the environment.
Goal

The main goal of the TV channel "Eco TV Moldova" is the creation of a high-quality ecological television product, the formation of the ecological culture of the Moldovan population, the promotion of tourism, traditions, nature, healthy lifestyle, environmental business in our country and finding solutions together with various specialists, Ecologists, doctors, engineers, managers and civil society on the environmental and environmental issues.

Creation of ecological news, environmental reports, films, talk shows, cartoons and other television products in Moldova, promotion of thematic environmental exhibitions, fairs, public organizations, environmental projects and companies that produce, import or export products or environmental services for public information on the methods of protection the environment and human health, which are practiced in other countries of the world.

In addition to that was said above, our goal is to create a national coverage in both the capital city and the whole Moldova, the production of an up-to-date television product in the field of ecology, qualified and interesting as in Moldova, as and throughout the world.

"Eco TV Moldova" project team

Now, two people work in the project of the TV channel "Eco TV Moldova"

Anatoly Zalevsky – by specialization is ecologist, he specializes in environmental management / environmental management in tourism and since 2010 has experience mainly in the field of TV and radio and advertising.

Oleg Dashevsky is an independent journalist, a copywriter.
We together conduct and develop the TV channel "Eco TV Moldova" on the internet page and in the internet group:

- https://www.facebook.com/ecotvmoldova/

- https://www.facebook.com/groups/ecotvmoldova/
And we also make videos and place them on the "Eco TV Moldova" channel on PLAY.MD, Youtube, RuTube:

- https://play.md/ecotvmoldova-channel

- https://www.youtube.com/channel/UCluAgsETTAG0HrHimS_D4-A

- https://rutube.ru/video/person/1275758/

Due to the limit of our capabilities, we mainly import the TV product of ecological topic (news, reports, articles) from Moldovan and foreign websites of the television industry, environmental organizations, companies and projects.

The most important environmental materials we receive from the United Nations (UN), because they work mostly on human health and nature protection issues.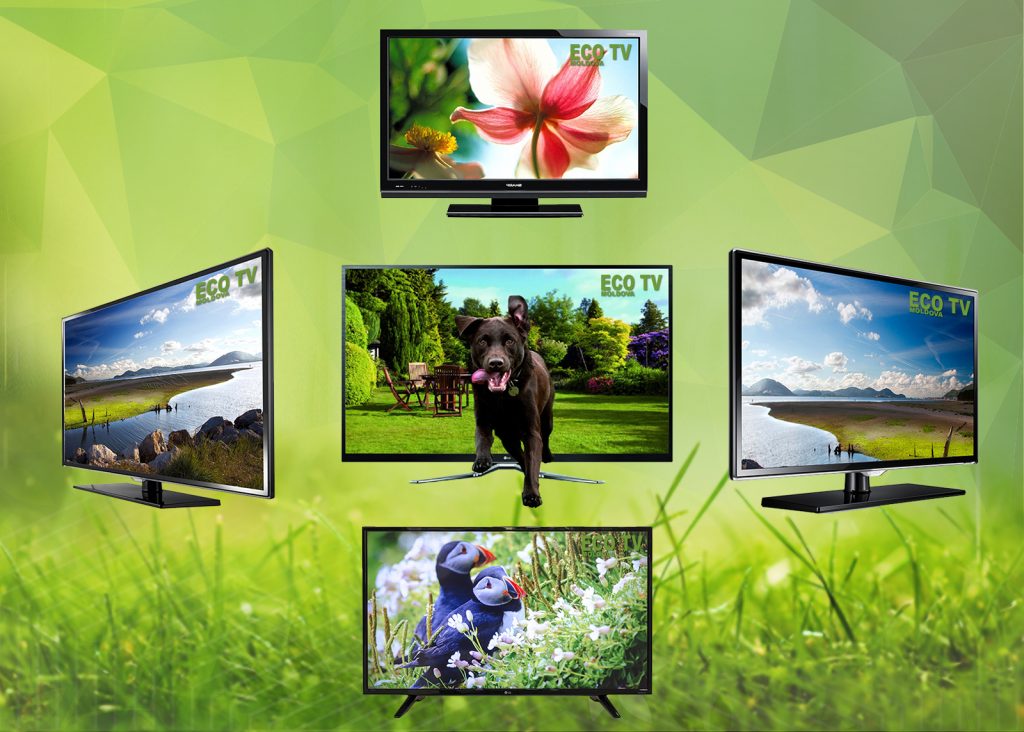 The project of the TV channel "Eco TV Moldova" was founded on April 15, 2015.

For 1.5 years we have created a Facebook group with more than 5,000 followers, a page with around 200 likes, a channel on Play.md, as well as a large number of videos on ecological topic on Youtube and RuTube.

Our first videos were shot at the Moldova Eco-Energetica 2015 finals, and in the fall of 2016, we were first who became the media partners of Olympic ECOFest 2016, where we also shot a video at the press conference of Olympic ECOFest 2016, where short reports and photos were shot, including Yard Sale ECOFest.

Also in autumn 2016 Eco TV Moldova became the media partner of IarmarECO active 2016 - the fair of environmental opportunities and social entrepreneurship. We also promoted IarmarECO on our Internet sources.

Further, we plan, to move further step by step, looking for other opportunities and create an official TV channel "Eco TV Moldova" as well as other TV channels in Moldova.

We are planning all this in 2017.
Advantages of the project:

- ecological education;

- promoting the healthy life-style;

- high quality of living;

- creation of more clear environment;

- promoting of eco, bio and natural projects, companies, products/services;

- creation of news, reports, programs, films on ecological topics;

- partnership with all who work in ecological field;

- taking part in ecological activities in Moldova and in the world.
Eco TV Moldova, spot video RU:

https://www.youtube.com/watch?v=rEn_3XEA0xE&feature=youtu.be
Why?

There are many reasons why this mission is necessary!

Most importantly, we want to change people's thinking in such a way that they will think about how to be healthy and keep the environment healthy for our children and for future generations.

We want to deliver this idea to every citizen!
We are in need of these resources

First of all, we need a team, journalists, videographers, marketing specialists, designers, environmentalists, economists, accountants, managers in different fields who like nature and who want to preserve it and promote healthy lifestyle.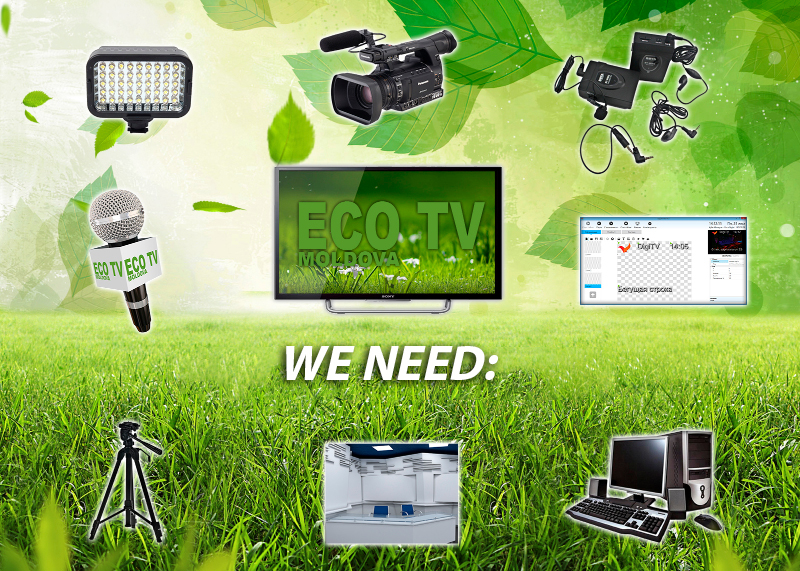 We need equipment to run the TV channel, these are video cameras, zoom, light, microphones, lavalieres, tripods, audio mixer, Digi TV program, TV license, office and other unforeseen expenses, etc.

Initial investment is 26322 euros.

To begin the work of "Eco TV Moldova" we need 7000 euros

We call all those who support our point of view, all those who want an uncontaminated environment, clean air, clean water, clean soil, join us to create a better healthy world!!!

Partners:

Ecology.md, ECO FM, Realitatea TV, Art Botanic By Irina Goldina, Centrul National de Mediu, Frolov. A., KAMIN.MD, DIPLOM.MD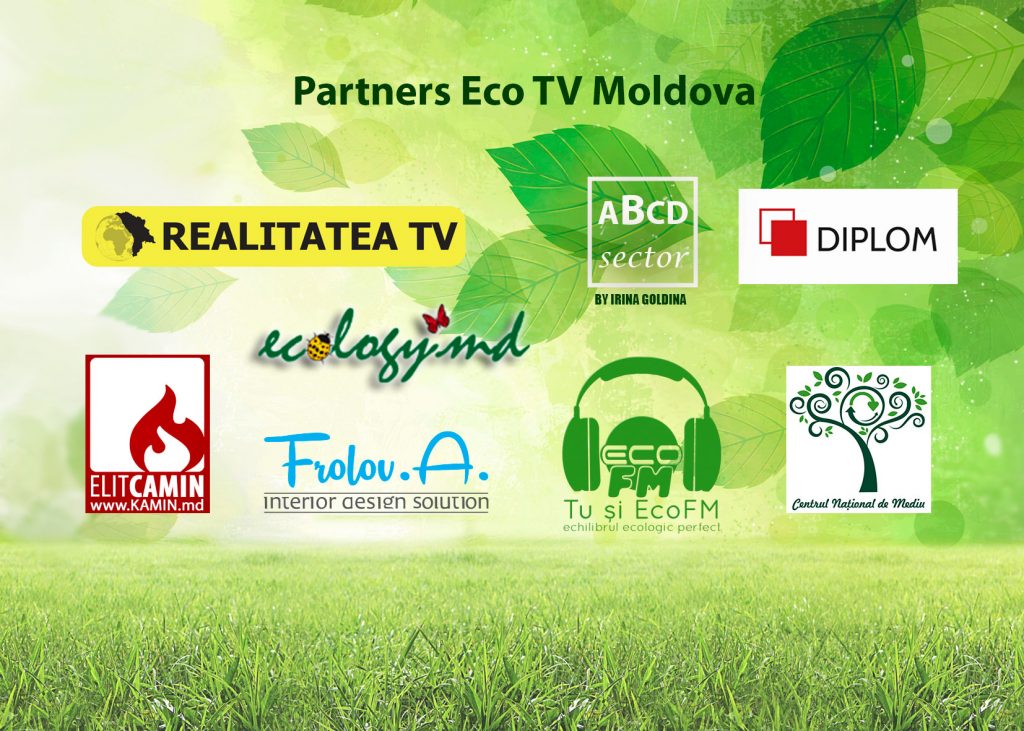 Art Botanic By Irina Goldina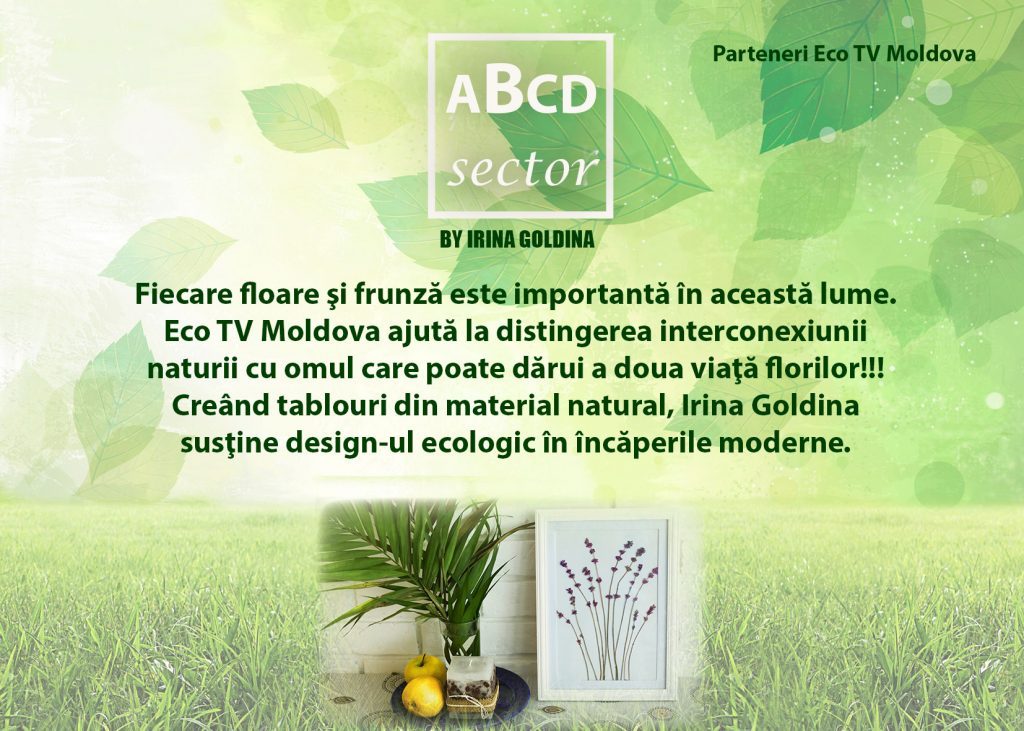 Realitatea TV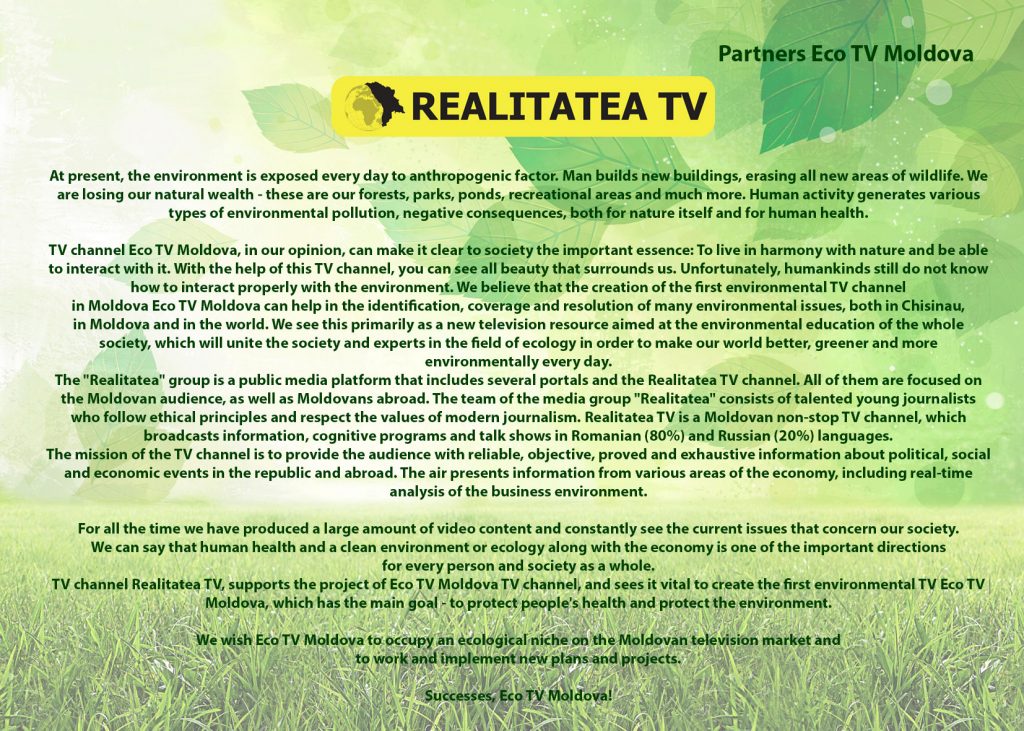 DIPLOM.MD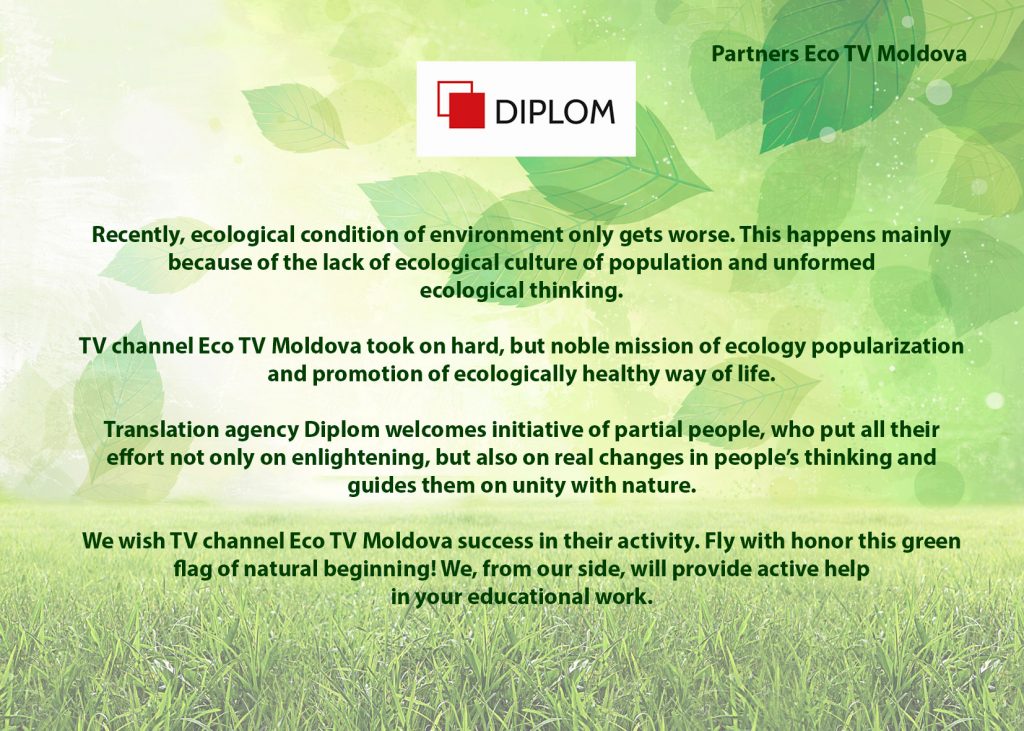 Ecology.md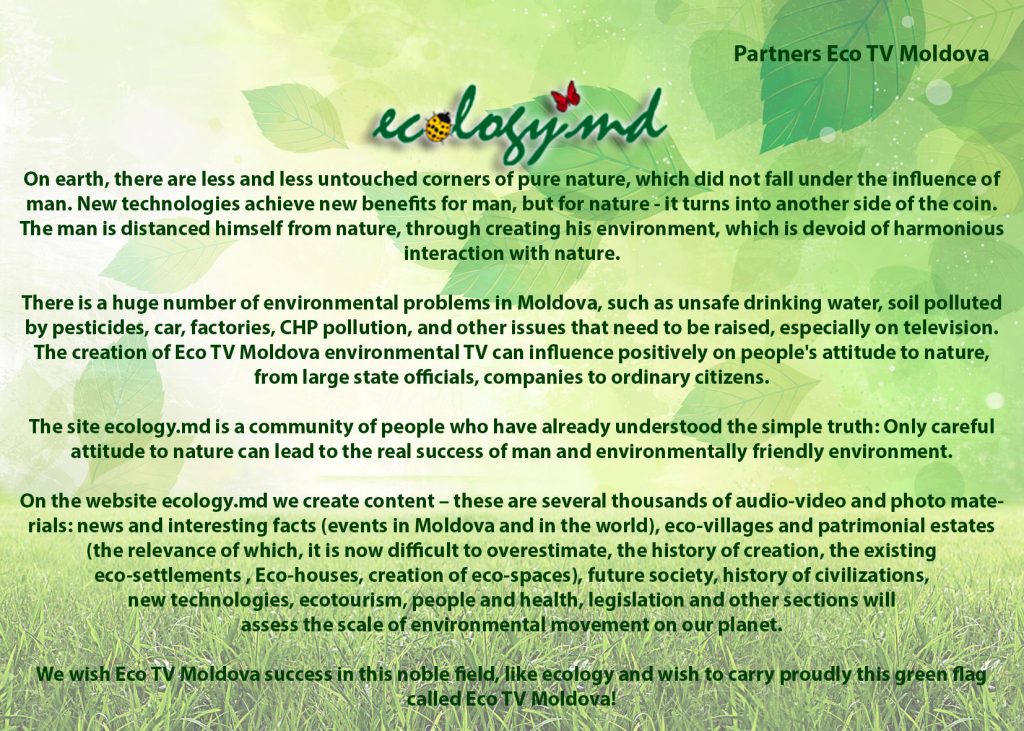 ECO FM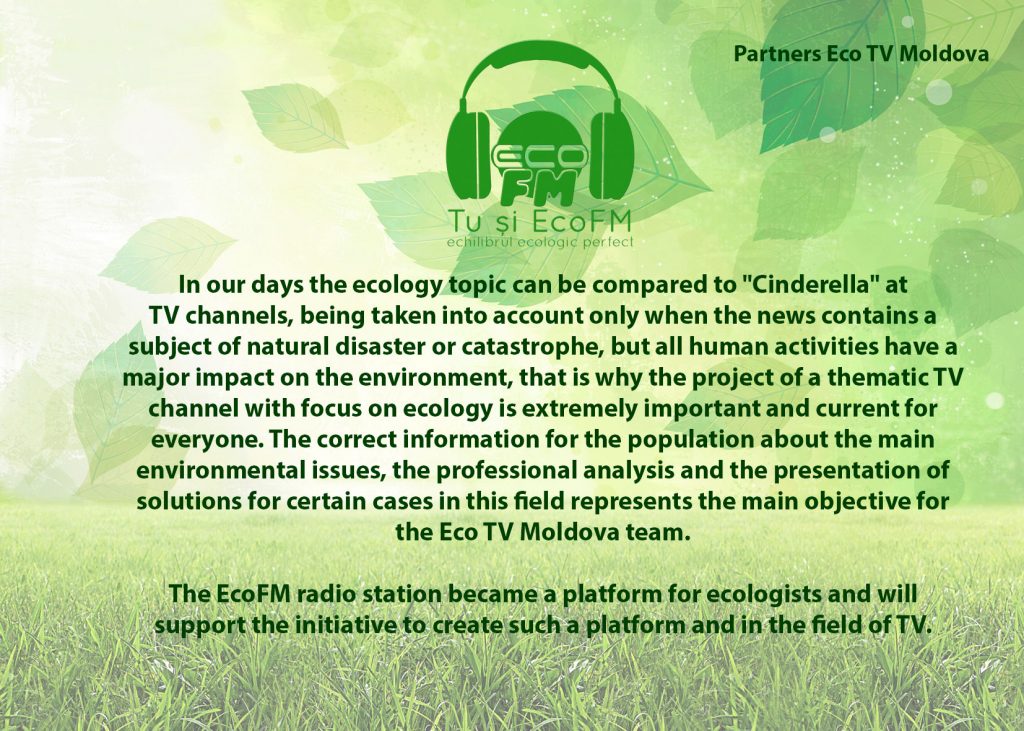 Frolov. A.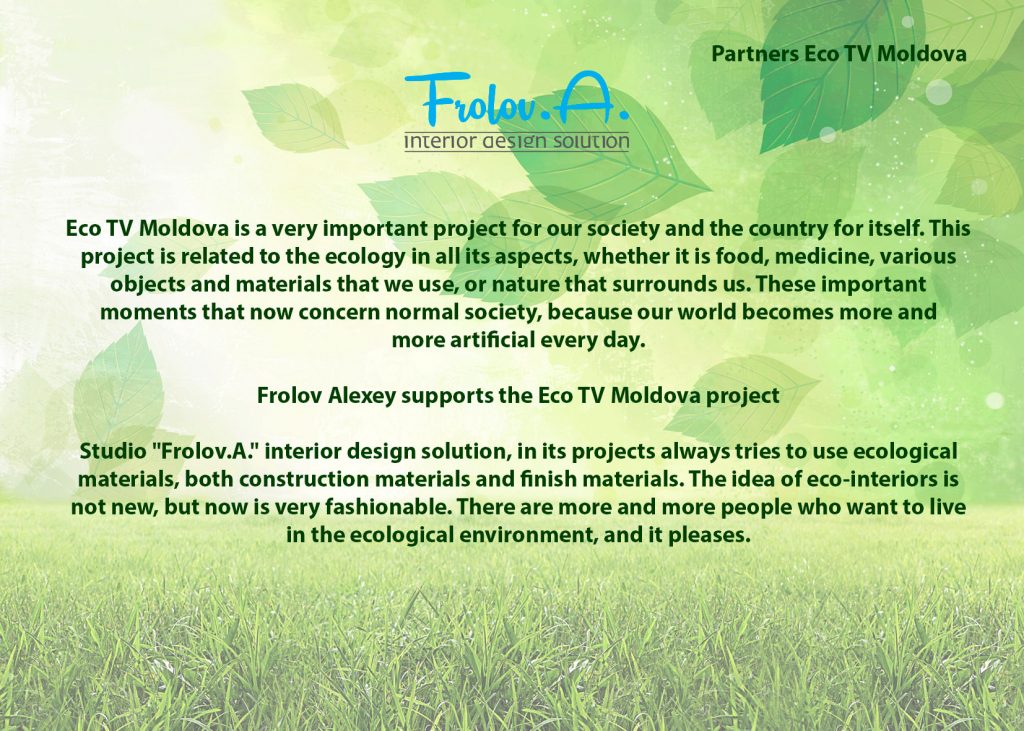 KAMIN.MD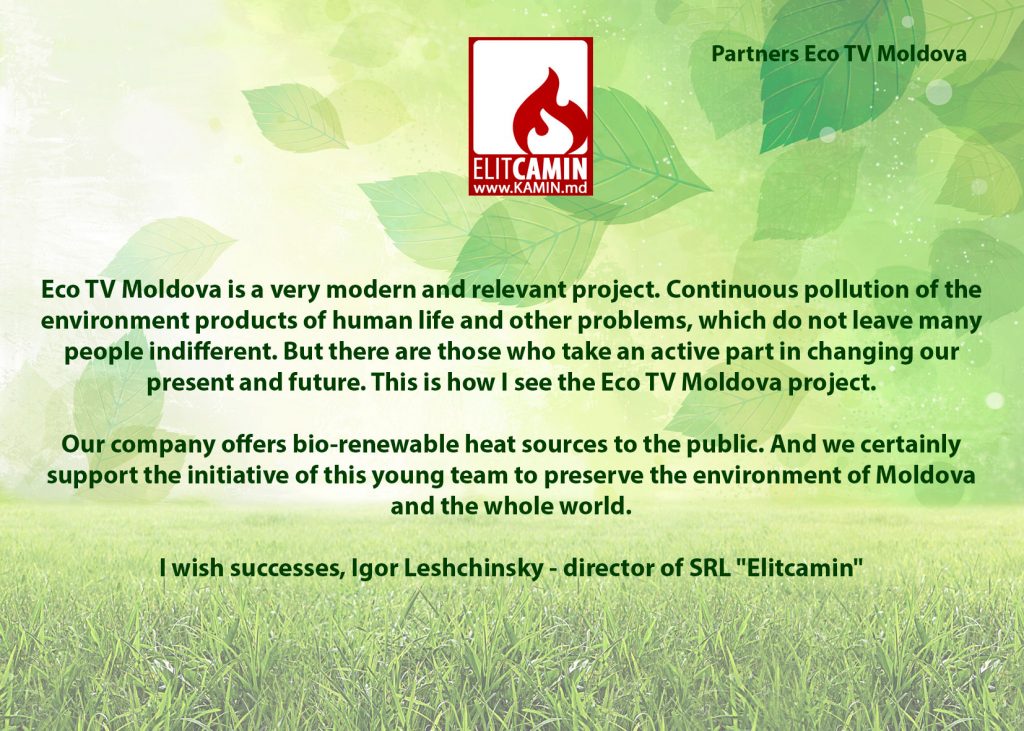 Centrul National de Mediu