Campaign

Comments

Backers
On the 15th of June, the HOSPICE Cycling Team will start an incredible journey, for a noble purpose. The members of the Team will pass over fields, rivers, mountains, borders of the country and will cycle more than 560 km, all of this in 5 days.

What does "From HOSPICE to HOSPICE on two wheels" mean?

The HOSPICE Bike Tour is the first cycling event organized for a noble purpose. It's an incredible challenge for amateur cyclers, who will have to cycle from HOSPICE Angelus Moldova (Chisinau) to HOSPICE Casa Sperantei (Bucharest), for a total of 563 km. More than a challenge, taking part in this event will mean that each kilometer will bring support and a painless existence to children and adults suffering from incurable diseases, in an advanced, terminal stage and with a limited life expectancy.

Andrei Tchmil, former international cycler, who won several classics and took part in the Tour de France during his long career, supports this incredible event! He has accepted to become the HOSPICE Bike Tour Ambassador!




Andrei Rosu, Ambassador of the Tour of Romania, will also be part of it! Andrei is an endurance sportsman, blogger, writer and inspirational speaker, sport and charity events organizer in Romania, and has been a support of the HOSPICE cause for already six years!


Why this route?

HOSPICE Angelus Moldova, together with HOSPICE Casa Sperantei (Romania) and BEL-HOSPICE (Serbia) are part of the Hospices of Hope Network (United Kingdom). These three hospices are like a big family, which locally offer palliative care services to those who need them, and try to collect money to sustain their mission as all the services provided are free of charge for the patients and their families.




The HOSPICEs from Moldova and Romania that are going to be visited during the Tour.

The route of the cyclers will start in Chisinau, from the HOSPICE Angelus Moldova's office, will continue with a brief stop at the HOSPICE Casa Sperantei centre in Brasov and will end at HOSPICE Casa Sperantei in Bucharest.


The route that the cyclist will have to cycle during the 15th-20th of June!

We already have the first participants from the Republic of Moldova, who have decided to cycle for HOSPICE and thus to raise a minimum of 500 EUR each, giving the possibility to children and adults who suffer from incurable diseases to receive professional palliative care services.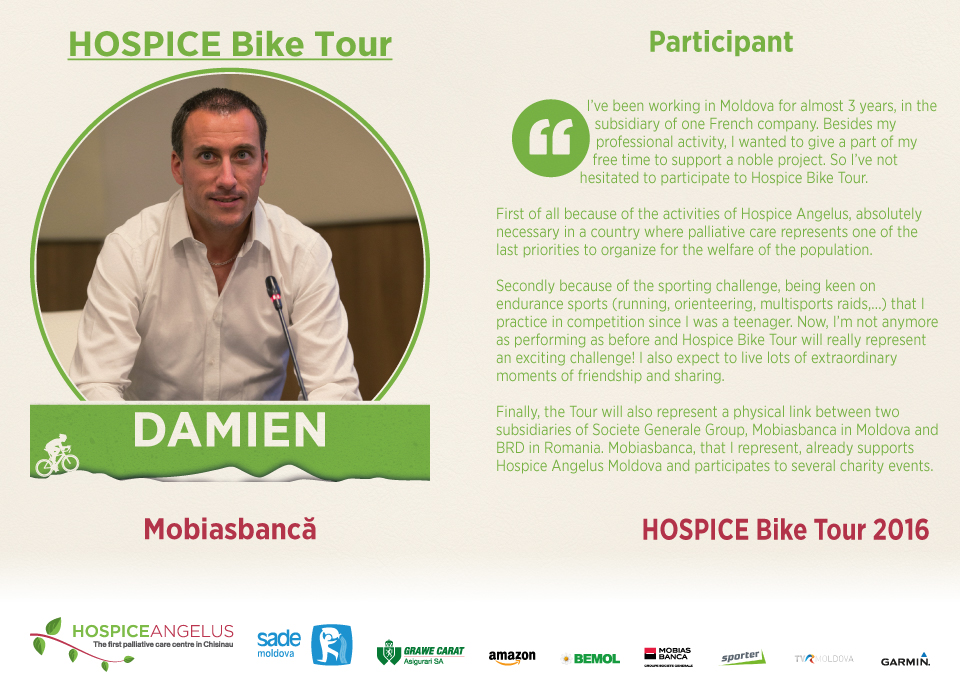 Support our fantastic cyclers, who have decided to accept this incredible challenge to help those who are in need.
If you also are keen on cycling, join the HOSPICE Cycling Team! We are waiting for your message on events@hospice.md!

The first HOSPICE Bike Tour - from HOSPICE to HOSPICE on two wheels is organized with the support of SADE Moldova, Mobiasbancă - Groupe Société Générale and Andrei Tchmil, to whom we are deeply grateful for supporting us also in this event!

We remind you that HOSPICE Angelus Moldova is the main provider of free palliative care services to children and adults suffering from incurable diseases in an advanced, terminal stage, with a limited life expectancy. Palliative care represents a holistic approach of the treatment of the symptoms caused by an incurable disease, through offering professional medical care, social and psycho-emotional assistance both to the patients and their family. In 2015, more than 2300 patients have been cared for by HOSPICE Angelus.

WE KINDLY ASK YOU TO TELL US WHICH CYCLIST HAVE YOU DECIDED TO SUPPORT THROUGH YOUR DONATION BY LEAVING A COMMENT IN THE DONATION WINDOW!

THANK YOU FOR YOUR SUPPORT!