MentorMe – First Global Mentorship Program in Moldova
Campaign

Comments

Backers
About us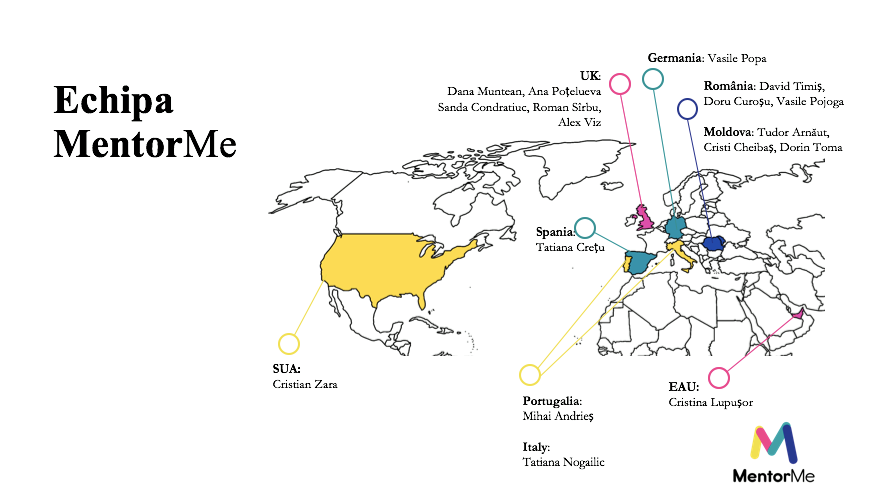 We are a team of enthusiastic volunteers that created the MentorMe program - first mentorship program in Moldova - in 2014, as a follow up of the Best Moldovan Students Abroad Gala. (We are students and young professionals, born and raised in Moldova, currently studying, living, or working abroad.) This initiative was inspired by our desire to share our knowledge and experience with fellow co-nationals. We remember well how hard were the first steps when we decided to leave our homes. We all wish that when we were getting ready to move to a new country, when we were choosing for which university to apply, or when we were applying for a new job, we had the chance to talk to a mentor. A person we could ask for advice, ask 1001 questions, or just someone to talk through our fears and doubts, and get answers based on someone's real, personal experience. As of today, our community counts over 100 mentors from 23 countries that guided and helped over 700 mentees. Our mentors' experiences are covering a wide range of interests, from architecture and design to finance and entrepreneurship. Our aim is to attract thousands of mentors and mentees that will result in a 1,000,000 connections before 2020.


MentorMe helps to build a new generation of leaders!
We want to contribute to the creation of the next generation of leaders by adding to their personal and professional development through their interactions with our community of successful mentors! To achieve this goal, we intend to create a more efficient mode of interaction between mentors and mentees, both based in Moldova and abroad, by launching an online communication platform - "mentor.md". The platform will help its beneficiaries to search for mentors by filtering based on different criteria, such as: education, career, country, interests, etc. The main goal of the platform is to create these connections and increase the number of people who can use this service. The platform will allow the fast growth of a community where experts from different fields will be sharing their experiences with school students, university students, and even companies that seek professional consultancy. This interaction is going to benefit different collaborations for projects/start-ups between  the diaspora members and those residing home; students will be able to get advice to apply to universities from all around the world, or for better integrating in new communities.
How will it look?
Stay connected by liking our Facebook page: https://www.facebook.com/MentorMD/ and use the platform for personal development and to share your gained experiences with others!
Why do we need your support?
We need your help to: - Create the platform mentor.me and launch it in the next 3 months - Organization of events and training for mentors and mentees in Moldova and abroad during the next year
Thank you!
We thank you in advance for wanting to make a change in Moldova by contributing to the formation of our community of mentors and mentees with experiences from both Moldova and abroad.