School of Drupal 8 plus PHP
Campaign

FAQ

Comments

Backers
Many young Moldovan people want to have a quality education and to build a strong IT career, however most of the people understand that what they learn at school is not enough to be employed.

Drupal Moldova Association stands for quality education and cares about the development of the Moldovan citizen, to fulfill this purpose we are organizing a 5-week study program that aims to initiate all people interested in pursuing an IT career, especially in Drupal 8.

Drupal School is organized with the support of the Moldova Competitiveness Project, funded by USAID and the Government of Sweden.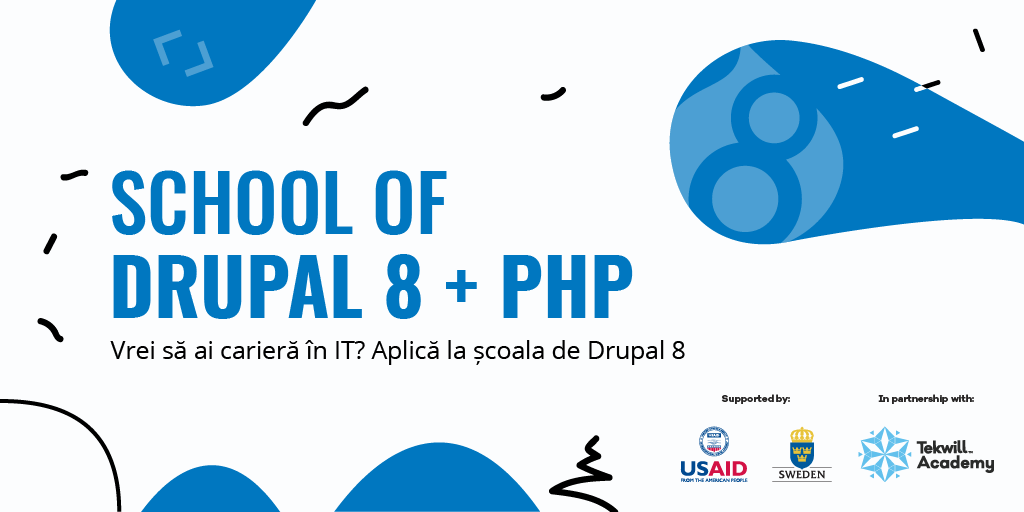 Drupal is a content management platform Open Source used by millions of people and websites. School of Drupal 8 and PHP is a project that provides 25 lessons of 2 hours each, taught by the most experienced Drupal developers and mentors in Moldova. This project includes knowledge of Drupal market leaders in Moldova and allows to combine theory and practice, step by step.

Courses will include:

- Creating and configuring a local server;

- Installing Drupal 8 and Configuring it;

- Define the structure of the content and appearance of it.

- Creating and editing content;

- Content categorization: menu, categories and tags;

- User, roles and permissions management;

- Installation of additional modules and templates;

- Localization of the site in various languages;

- Maintenance and updating;

To organize a quality program that will ensure that the knowledge will be good to pursue a paid career in IT, the budget and the ticket fee of the program will not be affordable for average Moldovan citizen.

Through this call to action, we want to give the opportunity to 4 young ambitious people to become IT professionals and have a decent life, so your donations will serve to pay the attendance fee to those 4 people who want to learn but can't afford it.

The new generation of Drupal developers in Moldova starts with you!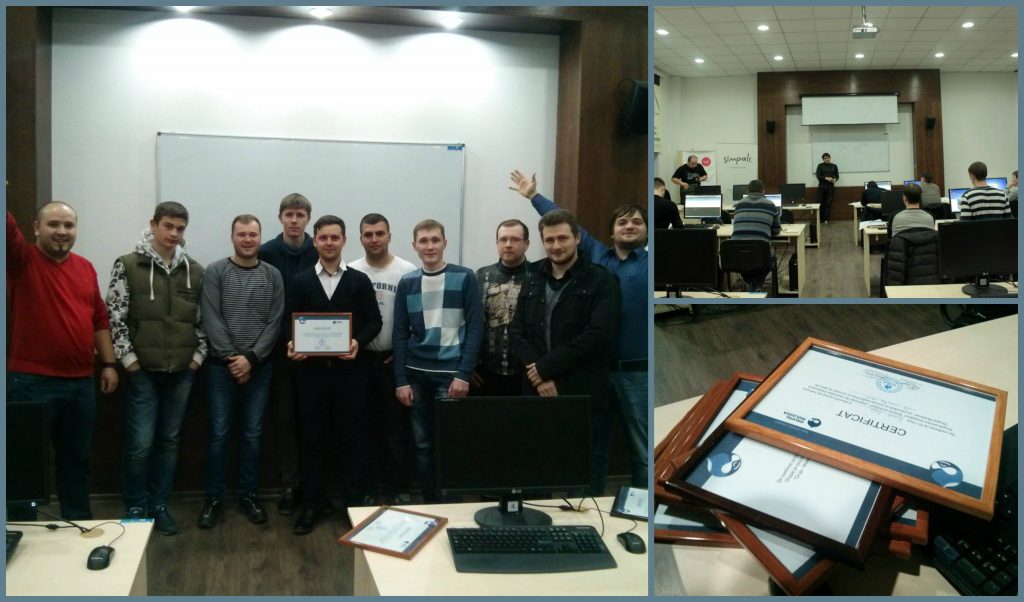 Drupal School  is supported by the Moldova Competitiveness Project, funded by the US Agency for International Development (USAID) and the Sweden Government represented by the Sweden International Development Cooperation (Sida).

Drupal School is organized in partnership with Tekwill Academy.

Tekwill Academy is an educational initiative that provides technical training courses and regularly throughout the year on specific topics taught by trainers and ICT professionals in Moldova and abroad. Tekwill Academy was created and operates within the USAID funded project "Development Center of Excellence in ICT in Moldova", implemented by the National Association of ICT Companies (ATIC).
Q1 : What is the agenda?
To become a professional Drupal developer  - it takes time. We splitted the entire program in three parts:
- Drupal School 1 - For Beginners - here we initiate our students in Drupal 8 and PHP. They will learn all the concepts of Drupal, PHP programming basics, plus some extra themes. This course focuses on graphics (UI) concepts and Drupal platform, but also lay the foundation for web programming - PHP.
- Drupal School 2 - For intermediate - here we will teach how to develop modules for Drupal 8. We will learn the Drupal 8 APIs, programming models and best practices.
- Drupal School 3 - For Advanced - this course is for professionals - they will learn how to optimize existing websites, to secure, to use best practices in the industry etc.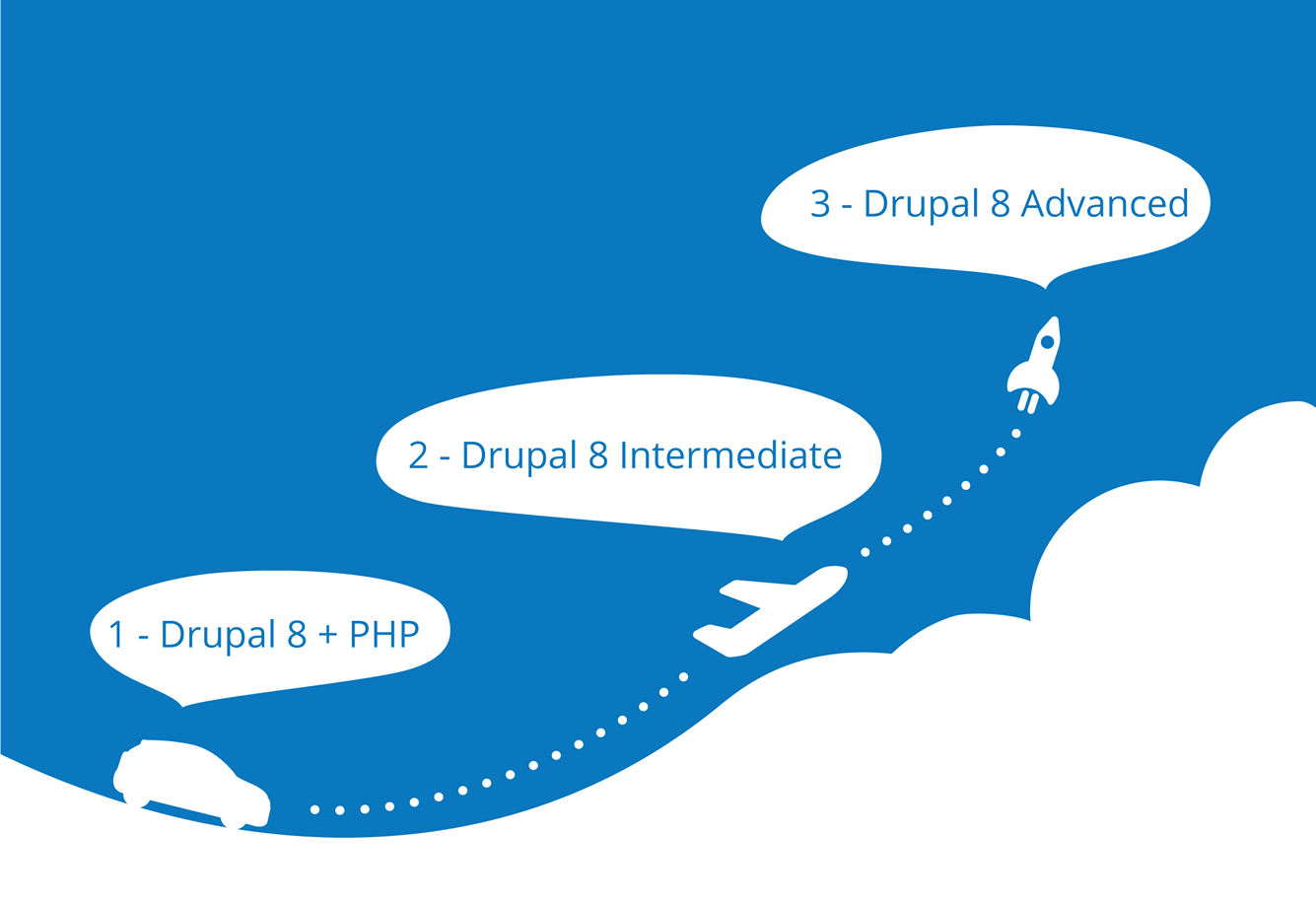 Q 2: What is the chronology of the three Drupal Schools?
Drupal School 8 plus PHP : From June 19th to July 2017.
Drupal School 2: From October 2 to November 2017.
Drupal School 3: From January 8th to February 2018.
Q3: Will the participants have the opportunity to get hired in an IT company after the schools ?
After the first school of Drupal 8  unfortunately the students will not be employed due to lack of knowledge, but he/she will have the chance to get an internship in some IT companies and continue to learn. After the second and third Drupal School , if the participant is really proactive and quick learner, companies will be glad and able to hire him/her.
Q4: What is the average salary for a Drupal developer?
Junior Developer: 300-500 USD (NET salary).
Middle Developer: 500 - 1000 USD (NET salary).
Senior Developer 1000 - 1500+ USD (NET salary).
Q5 : You are financed by USAID, the Swedish Government and have partners and private sponsors. Why is the cost so high?
This course is being organized during these four last months, by a small team of 6 people and this includes many expenses, accounting, payroll, trainers, design, development, marketing, etc.
Q6: How will the chosen these four people?
We organized an exchange program with USAID and the Government of Sweden, where all students can apply (the application is sent by e-mail). Subsequently, through a selection process, will be chosen the most responsible, proactive, organized and talented applicants.
Q7:  After the completion of the course will there be given certificates? By who they are recognized?
After the completion of the course we hand out certificates of the Drupal Moldova Association. These certificates are only recognized by local companies on the Moldovan market. We have worked with many private companies and they know about us and the quality of our program.