Support those who #RunForHOPE!
Campaign

FAQ

Comments

Backers
On 1st of October, thousands of people gather in the General Assembly Square, to start the Chisinau International Marathon!


From all the participants, more than 30 people have decided to give a very special meaning to the medal received after their run. They will #RunForHOPE, in order to revive the hope in lives of those suffering from life-limiting illnesses in the regions of Moldova. Their main purpose is to collect 100 EUR each, to help Hospices of Hope in Moldova in its mission of offering free medico-social services to those in need.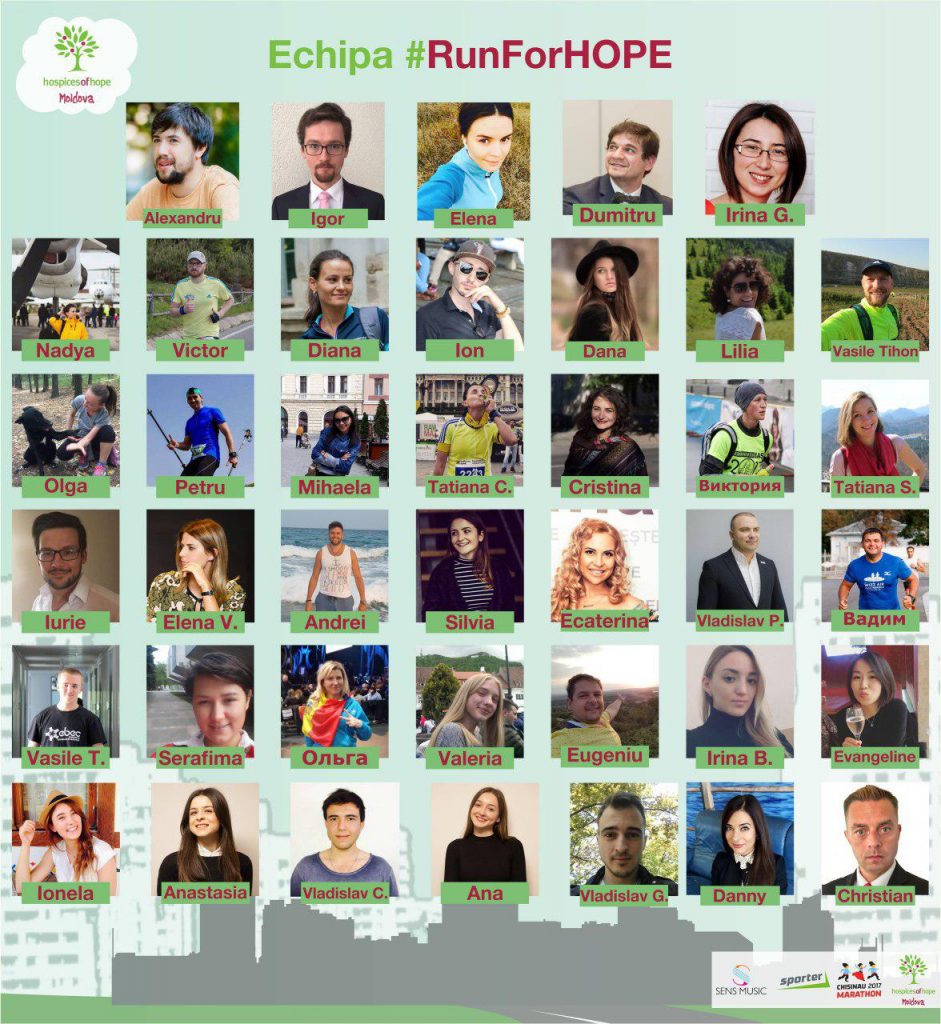 The Ambassadors of Hope are Alex Lebedev, Igor Nisenboim and Elena Zgardan.







Please add in the comments the name of the runner you're supporting with your donation. Thank you!

This campaign is organized by the Hospices of Hope office in Moldova, in benefit of children and adults with life-limiting conditions in the regions of the Republic of Moldova. Hospices of Hope is the biggest charity supporting palliative care services in the South-Eastern Europe. In Moldova, Hospices of Hope has been supporting the consolidation and development of palliative care since 2008. Visit our web-site www.hospicesofhope.co.uk to learn more about us and our mission :)

NB: The target to be reached will be uploaded as new members join the team.
Ce înseamnă îngrijire paliativă?
Îngrijirea paliativă vizează îmbunătățirea calității vieții pacienților și familiilor acestora atunci când se confruntă cu problemele unei boli incurabile, prin îngrijire medicală pentru pacient, sprijin social și consiliere psiho-emoțională și spirituală pentru pacient și aparținători.
De ce ar trebui să susținem îngrijirea paliativă în Moldova?
Pentru că în Moldova sunt multe persoane care necesită acest tip de îngrijire și că doar împreună putem schimba vieţile celor care trăiesc cu o boală incurabilă, prin grijă și compasiune, oferite necondiţionat, cu scopul de a dărui demnitate și speranţă.
Unde merg banii pe care-i donez?
Fondurile colectate în urma campaniei #RunForHOPE și celorlalte evenimente vor fi folosite de către Hospices of Hope Moldova pentru a susține dezvoltarea și consolidare organizațiilor care oferă servicii de asistență medico-socială în regiunile din nordul Republicii Moldova. Aceste organizații întâmpină dificultăți mari de finanțare și riscă să sisteze activitatea pe care o desfășoară în cazul în care nu vor primi sprijinul necesar, așa cum s-a întâmplat cu alte organizații din Sudul Moldovei.
Cine suntem?
Hospices of Hope este o organizație internațională cu o experineță de 25 de ani în susținerea serviciilor de îngrijire paliativă în Europa de Sud-Est. Organizația este prezentă în România, Serbia și Moldova, și a contribuit la construirea și dezvoltarea centrelor din Hospice Casa Speranței din Brașov și București, Centrului Hospice pentru copii din Copăceni, iar în Serbia contribuie la dezvoltarea primul Hospice cu unități staționare din țară. În Republica Moldova, Hospices of Hope susține dezvoltarea și consolidarea serviciilor de îngrijire paliativă încă din 2008. La aniversarea celor 25 de ani de activitate, în primăvara acestui an, centrul Hospice Casa Speranței a fost vizitat de Altețea Sa Regală Prințul Charles al Angliei. Mai mult ca atât, Graham Perolls, fondatorul Hospices of Hope, a fost decorat de două ori de Majestatea Sa Regina Elisabeta a II-a a Angliei, primind The Order of the British Empire (OBE) și devenind un Companion of the Order of St. Michael and St. George. Mai multe informații despre Hospices of Hope și lucrul desfășurat în regiunea de Sud-Est a Europei puteți afla pe www.hospicesofhope.co.uk.